I love sharing eco wedding tips with you and boy do I have a great one for you this month. You might not look at a wedding dress in the same way again. Anna of Lucky Sixpence shares some great advice eco wedding tips on how to have a more environmentally friendly wedding. Her company can take an 'old' dress and bring it to life again. It is magical so you have to read on to find out more…..

Photo: Tom Lakeman 
Eco Wedding Tips from Lucky Sixpence Bridal
What is Lucky Sixpence Bridal and where did the name come from?
Lucky Sixpence Bridal is the outfitter for bad ass brides. We curate vintage and preloved bridalwear and pair our brides with designers who work their upcycle magic to create a bespoke look for our bride. We offer a unique way for our brides to look like the badasses they are on their wedding days, without costing the earth.
Traditionally, a wedding gown would have been passed down through the family, as a good luck charm for a happily ever after. Sadly this tradition is dying out and a new tradition has taken hold; of brides competing over who has the most extravagant celebration and dress!
In naming Lucky Sixpence Bridal we wanted a name which embodied the magic of getting married but was also a little unknown and unexpected. While we all think about getting something old, something new, something borrowed and something blue – the lucky sixpence has been somewhat forgotten and it was time to bring it back!
Who are the faces behind the name?
Lucky Sixpence Bridal is run by me, Anna, and a fluid team of co-conspirators and collaborators. I fell into the wonderland of weddings in 2015 for my wedding and started to appreciate why so many brides end up paying over the odds for their wedding outfits. There just weren't that many alternatives available to brides who didn't have their hearts set on a pricey, modern dress.
For our big day I sourced a late 70s handmade wedding dress and after a mini upcycle (goodbye ruffles and peasant top volume!) I was in love with my easy to wear, unique dress. My friends and family couldn't believe how affordable and amazing the dress was and that's Lucky Sixpence Bridal was born!
What makes you eco-friendly?
It's really upsetting but, of the huge carbon footprint that a wedding can have, the dress is often the single biggest contributor. Very often bridal gowns are mass-produced halfway across the world and then shipped over. When you consider that most of those gowns will only be worn once, for a few hours, the environmental impact doesn't seem right.
By rejuvenating and wearing a preloved gown from Lucky Sixpence Bridal you are avoiding this completely, especially if you will be then passing your gown on for someone else to enjoy! We've found that many people do love the idea of wearing a preloved dress but have struggled to find the right dress or know what to do with it to make it feel theirs; that's where we come in!
What's more, with our dresses coming in around £300, should couples wish to carry out carbon offsetting for their big days there's budget there that could have easily been spent on a far more expensive dress?
What are your top tips for couples planning their day?
From personal experience, I know it is too easy to get carried away! There is a lot of noise in the wedding space; from pop culture, wedding magazines and blogs and it can all seem overwhelming. At the end of the day, you are publicly celebrating something that the two of you have known for a long time; that you are made for each other. How you want to celebrate that is completely up to you. You don't need to have a first dance, speeches –even guests if you don't want to!
A good place to start is to understand your budget and have an honest conversation with your other half about your expectations for the day. If you are receiving financial help from your families make sure you go to them too to understand what they're dreaming of. Don't have the wedding they want you to have but manage their expectations if they are helping you out!
Once you are all on the same page, it's time to get busy but in your way. If you are into big visions, by all means, get pinning, if you like to take it step by step, just focus on one thing at a time. Once you have a date and a venue other things will come along so don't worry and do ask for help if you need it. For instance, when you start meeting suppliers that you get on with, ask for their recommendations. The wedding world is pretty small and we might just have the perfect cake maker contact up our sleeves for you!
Your tips for planning an Eco Wedding?
Weddings can create a lot of waste so it's important to think about what is YOU want rather than get carried away with the pressure to go big from perfectly styled weddings in magazines – eg. Do you really need those 200 oak slices as coasters? And if you do, can you hire them or buy them second hand from someone? Will digital invites or having the menu written on chalkboards work just as well as printed copies?
When catering, many people do go overboard. For instance, if you had a delicious sit-down meal will your guests' stomachs really be rumbling for sausage rolls after just a few hours of dancing? Our approach was to go for a BBQ buffet for our ceremony guests and then any leftovers were there for evening guests to pick at, along with copious amounts of cake!
Breaking away from conventions can make your wedding far more eco-friendly, especially when it comes to outfits. Could upcycling a preloved gown give you the look and feel you want for your wedding?  It's very common for groomsmen to hire their suits but, if this isn't suitable, could you ask them to wear a smart dark suit that they already own? Maybe your bridesmaids could pick their own dresses that they will wear again?
Sadly, we are all being pushed to bigger and more extravagant weddings but we can all make decisions that allow us to create amazing memories that don't cost the earth!
What are you selling points to Couples?
We help our brides look unique on their wedding days in personalised outfits that are very affordable. It's the bride who wears the dress, not the other way around and we believe that our approach to bridal wear means the bride can inject her personality into her outfit and unleash her creativity by working with our designers.
We have heard from many brides that buying their dresses felt stressful and full of red-tape, with some being told that 6 months ahead of their wedding is too late to be ordering a dress. No bride should ever be told 'no' when she is planning one of the happiest days of her life! We are flexible, supportive and want the best for all of our brides. We'll do everything we can to make them feel like their bad ass selves on their wedding days.
We work on a pop-up model which allows us to create fun and excitement around our boutiques. Our next pop up; the Lucky Sixpence Wedding Chapel is in Brighton 1-7th August (2016!) and we are working with a gang of our favourite suppliers to create a Vegas-styled wedding chapel with calligraphy and flower crown workshops. We're all about bringing fun and creativity back into planning your wedding. Keep an eye on our social channels to hear more about what we have planned, get in touch to book a bridal appointment and pop by to say hello!
Can couples provide you with a dress to upcycle?
Absolutely, as you might expect, we're obsessed with the US show Something Borrowed, Something New and delight in meeting couples with heirloom dresses they want to turn into something spectacular.
Do you take donations?
We were very recently given our first donation! A fantastic lady called Dawn heard us on a BBC Radio 4 documentary about repurposing vacant commercial space and got in touch to gift us with a stunning handmade late 70s floaty gown, veil and bridesmaid dress. She loved the idea that the dresses that had given her so many memories could be passed on to someone else and bring them luck. Whenever we take a donation we will also make a donation to a charity of the donor's choosing. It's the least we can do to say 'thank you' that someone believes in our mission!
*******
Big thank you to Anna for sharing with us her company and thoughts. It was a fab read and we hope you enjoyed it too and have been inspired. Click on her logo below to read more about them and their great work!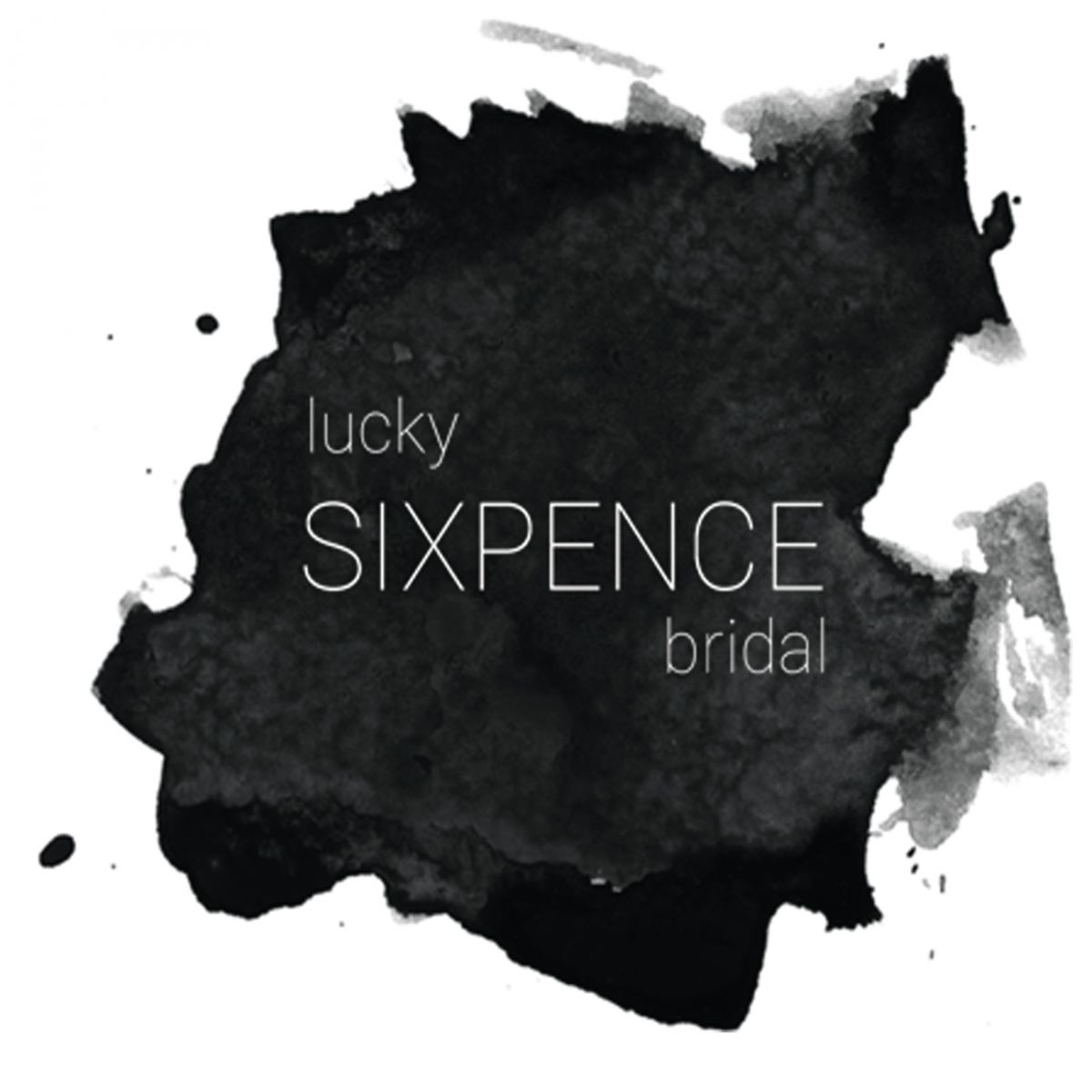 Twitter: @sixpence_bridal
We would love to hear from readers who have upcycled their wedding dress or that have used Lucky Sixpence and would like to share a picture of their dress and the story behind it. 
Photography in post: Tom Lakeman